Empower Your Students With Mindfulness
Empower your students to move from feeling stressed and burnt out to feeling capable and resilient using the Mindfulness Institute for Emerging Adults' evidence-based curriculum.
The Challenge
Rising Student Stress
A national survey revealed that 72% of students experience moderate to severe psychological distress. This has led to challenges with student retention, increases in student harm/violence, and increased demand for mental health services.
Higher education professionals are increasingly concerned about rising student stress levels, and they themselves often feel overwhelmed and burnt out.
Educators seek proven strategies for relief that can be readily implemented on campus.
The Solution
Mindfulness Education
The American Council on Education's 2023 report noted, "Mindfulness programs with supervised practice have the most consistently positive evidence."
Mindfulness, the capacity to pay attention to your present-moment experience with an attitude of kindness and compassionate curiosity, was also identified as one of the most important skills for improving mental health in the largest meta-analysis ever done on the effectiveness of psychotherapy.
The Mindfulness Institute for Emerging Adults offers an evidence-based curriculum that promotes individual mentoring by a trained teacher and provides supervised practice for students in the context of small-group learning.
The Evidence
Tangible Results
The Mindfulness Institute for Emerging Adults' curriculum, developed at Duke University, is the gold standard for mindfulness education for emerging adults on campuses worldwide. It is taught by a diverse community of 1,000 teachers, to over 60,000 students, on more than 250 campuses, in 14 countries.
Our evidence-based curriculum consistently empowers students to achieve higher levels of well-being and resilience.
The Mindfulness Institute for Emerging Adults' curriculum proved equally effective when taught remotely and helped students cope with COVID-19-related stress and anxiety.

This class has changed my life.
Zachary Olivan
MIEA Student at Manhattan College
Inspiring Words from Our Students
I went into the Mindfulness classes knowing absolutely nothing about meditation or mindfulness. After 4 weeks, I can say that this class truly helped me work through problems in my life that I never thought I could improve.
Taylor James
ASU
I just wanted to let you know how helpful these practices have been in my adjustment to living in a new country. I've had a few moments where I've felt a bit anxious and homesick, but just taking a brief moment to breathe and meditate has made a world of difference to me.
Max Bartlett
Duke University
These classes have changed how I approach relationships, stress, and normal day-to-day activities.
MIEA Student
Empower Your Students to Thrive
Get Started with MIEA Today
Discover the Difference
Our tailored, evidence-based curriculum equips educators like you to build resilience in students and transform campus, one mindful student at a time.
Science-Backed Results
---
Our evidence-based curriculum enhances well-being, reduces stress, improves sleep, fosters self-compassion, and promotes resilience.
Tailored for Students
---
Our curriculum is uniquely designed for college-aged adults, addressing their specific needs and challenges with practical skills.
Guided by Experts
---
Led by experienced faculty and trainers, our Certification program ensures our curriculum is delivered skillfully and teachers are supported every step of the way.
Seamless Technology
---
Effortlessly manage courses, boost engagement, and create meaningful connections with students with our innovative tools.
Inspiring Words from Our Teachers
We chose MIEA because it was tailored specifically to the population we were serving. This is what really stood out to us among other potential programs… The certification does not end with the training!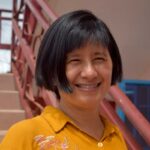 Penelope Wong
Berea College
The ending of my classes left me in tears as the students shared the impact of the class.
I am honored to be given the opportunity to engage with students in a meaningful, transformative, mindful way. What a gift!
Cheryl Mitri, MSW, RSW
Seneca College
Last night each student's check-in sounded like a glowing testimonial of how transformative class has been for them in a short time, and how the range of positive experiences was motivation for them to keep it up.
Maria Sperduto
Yale University
Your Path to Certification
Begin your journey toward becoming a Certified MIEA Mindfulness Teacher. This transformative process typically takes 6 months to 1 year, equipping you with the skills to effectively teach mindfulness to college-aged adults.
By completing certification, you'll be fully prepared to make a meaningful impact by sharing the gift of mindfulness with college-aged adults.
Start your journey today!
Apply – Submit an application (make sure you meet the prerequisites) and join us at a training workshop.
Teach – Teach a minimum of three (3) MIEA Introduction to Mindfulness courses.
Become Certified – Complete the portfolio requirements that will result in you becoming a knowledgeable, effective, and highly respected leader for supporting student success.
Empower Your Campus and Cultivate Resilient Students
Host a Certification Workshop
Are you passionate about empowering your students and fostering resilience on campus? Take the lead in bringing the transformative benefits of MIEA's curriculum to your college community by hosting a certification workshop.
By hosting a MIEA Certification Workshop, you'll have the opportunity to quickly build a community of certified mindfulness teachers among your colleagues. Together, you can provide students with the tools they need to navigate college life successfully.
Frequently Asked Questions
How long does certification usually take?

The majority of our teachers submit their portfolio within 1 year of attending their workshop. Teachers who have completed a 3-day retreat before applying typically submit their portfolio 6-12 months after their workshop.
What are the prerequisites for applying for Certification?

Completion of our 5-week introductory course, Fundamentals.

Acceptable alternatives to Fundamentals include MBSR, MBCT, MSC, training by the Center for Mind-Body Medicine, formal mindfulness training with an experienced teacher, or attendance at multiple silent, mindfulness retreats.

A regular, personal meditation practice for at least 6 months.


Flexibility allowed if: Applicants apply alongside colleagues willing to support and guide their mindfulness practice during the initial training phases; accepted applicants with at least 6 months before workshop can demonstrate commitment to developing their meditation practice during that period.

Experience teaching classes or facilitating groups is suggested.
Experience working with diverse populations or participation in diversity training experiences is strongly recommended.
How much does MIEA's certification training cost?

Teacher Certification Training

Tuition: $1,595 to $1,895
Cost of 4 required books: ~$50
Cost of optional suggested readings: ~$100
CE Credits are currently included in the tuition fee

Annual Fee

After certification, the annual fee is $225/year
This fee covers the license to teach our curriculum, use the trademarked logo, and access our technology

Other Costs to Consider

Optional Reading Material: ~$100
Travel to an in-person workshop
Room and board for an in-person workshop
App fees for students: $3.99/app
3-month extension: $59
What are the learning objectives of the Certification Workshop?

Identify three theories pointing to the significant rise in mental health concerns among emerging adults.
Identify the five pillars of Emerging Adulthood, as posited by Jeffrey Arnett, Ph.D.
Identify six key factors of the MIEA Mindfulness Curriculum.
Cite the four outcome measures that were being studied in MIEA's (formerly Koru) randomized controlled trial.
Cite three published research outcomes specific to the application of mindfulness interventions for the reduction of stereotype threat, unconscious bias, and improved mental health outcomes.
Cite the region of the brain impacted by the practice of meditation.
Identify two common stumbling blocks emerging adults experience with mindfulness and meditation.
Cite the nine mindfulness skills comprising the MIEA Mindfulness Curriculum.
Create a MIEA Mindfulness Course on the MIEA Teacher Dashboard.
Identify six core principles of mindfulness.
Cite four key trauma-informed principles embedded in the MIEA mindfulness curriculum.
What happens after the Workshop?

After successfully completing the workshop, you will transition to the practical phase. Organize and lead your own mindfulness classes with ongoing support from our experienced faculty.

During this phase, you will:

Teach 3 Intro to Mindfulness courses, applying your knowledge to make a real impact.
Participate in 4 online consultations with MIEA faculty and fellow teachers-in-training, benefiting from their guidance, feedback, and shared experiences.

This hands-on experience and collaborative support will refine your teaching skills, deepen your understanding of our approach, and enhance your effectiveness as a Certified MIEA Mindfulness Teacher.
What is required for the Portfolio Submission to finish Certification?

The final step towards certification is the submission of your portfolio. It includes:

Completion of Required Components: Demonstrate your understanding and mastery of MIEA's curriculum through completion of required readings, practice teaching our curriculum, and review of recordings of experienced teachers facilitating Intro to Mindfulness classes.
Student Evaluations: Include student evaluations from 3 Intro to Mindfulness courses, providing valuable feedback and insights on your teaching effectiveness.
Mindfulness Meditation Retreat: Participation in a 3-day or longer mindfulness meditation retreat.
Reflective Essay: Write a short essay reflecting on your experience teaching MIEA's curriculum, sharing insights and lessons learned.
What happens after I submit my Portfolio?

After your portfolio has been reviewed and accepted, you will become a Certified MIEA Mindfulness Teacher. To keep your certification active, we offer an annual plan that provides valuable benefits to support your teaching journey. The annual plan includes:

Teaching License
As a Certified MIEA Mindfulness Teacher, you gain the license to teach using MIEA's curriculum. Promote yourself as a certified teacher, utilize our comprehensive resources and logo, and get listed in our prestigious Teacher Directory. Enjoy the freedom to teach at your preferred locations and schedule.
Exclusive Technology
Gain full access to our innovative Teacher Dashboard, empowering you to efficiently manage your courses. Benefit from automatic waitlist management and foster personal connections with your students through direct mentoring on their mobile app. Our exclusive technology enhances your teaching experience and student engagement.
Ongoing Support from Faculty and Community
We are committed to your continued growth and success. Receive ongoing support via email, our dedicated forum, and monthly meetings with fellow MIEA teachers. Stay connected with our faculty and community, sharing insights, seeking guidance, and collaborating to enhance your teaching effectiveness.
Invitations to Teacher Development Courses
Continue expanding your knowledge and skills with our diverse range of teacher development courses. Topics include trauma-informed mindfulness, exploring white identity, and silent retreats for POC. These courses offer valuable opportunities for personal and professional growth.

For those needing further development, additional study, practice, or supervision may be recommended.
What if I don't finish my Teacher Certification portfolio within one year?

You will be able to extend your training period for an additional 6 months total ($59 for 3 months).
What if I am not affiliated with a University?

We have many teachers who teach mindfulness at community centers, private practices, and other types of organizations. These teachers, fondly referred to as Teachers in the Wild, have built a strong and supportive community on our teacher forum and meet monthly in our online support group.
What is your withdrawal and refund policy?
What are the terms and conditions of Certification?

All teachers must agree to our Teacher Certification Agreement which outlines the rights, responsibilities, and terms of teaching MIEA's curriculum. The document contains information on intellectual property, who can teach, access to our technology, and conducting research.
Can I get CE Credits?

Yes! We are currently offering CE Credits for psychologists.
What books do I need to read for Certification?

Required Reading

---

Mindfulness for the Next Generation: Helping Emerging Adults Manage Stress and Lead Healthier Lives

By Holly Rogers and Margaret Maytan • Oxford Press, 2012 • 2nd Ed.

This book is the manual for teaching our curriculum.

The Mindful Twenty-Something: Life Skills to Handle Stress…and Everything Else

By Holly Rogers • New Harbinger, 2016

This book, written by MIEA's co-founder, is the companion text for students taking Intro to Mindfulness.

Real Happiness

By Sharon Salzberg • Workman Publishing Company, 2010

This book serves as the companion text for students taking Intro to Mindfulness Part 2.

Trauma Sensitive Mindfulness: Practices for Safe and Transformative Healing

By David A. Treleaven • W. W. Norton & Company, 2018

Anywhere mindfulness is being practiced, someone in the room will likely be struggling with trauma.

Suggested Reading

---

Emerging Adulthood: The Winding Road from the Late Teens through the Twenties
By Jeffrey Jensen Arnett • Oxford University Press, 2nd edition, 2015
Awakening Together: The Spiritual Practice of Inclusivity and Community
By Larry Yang • Wisdom Publications, 2017
Mindful of Race: Transforming Racism from the Inside Out
By Ruth King • Sounds True, 2018
iGen: Why Today's Super-Connected Kids Are Growing Up Less Rebellious, More Tolerant, Less Happy–And Completely Unprepare
By Jean M Twenge • Atria Books, 2018
How are you different from other mindfulness programs?

At the Mindfulness Institute for Emerging Adults, we're not just another mindfulness program. We bring decades of experience and a unique, personalized approach to the table.

Here's what sets us apart:

1. Decades of Experience: Our co-founders, Holly Rogers, MD, and Libby Webb, MSW, have over two decades of experience at Duke University's student counseling services. They understand the unique mental health needs of emerging adults and have leveraged their expertise to create a standout certification program, knowing how to effectively communicate and present in higher education settings.

2. Technology Tailored to Your Needs: MIEA offers a custom-built teacher dashboard and a student mobile app designed for one-on-one guidance. Our technology streamlines teaching and enhances student engagement.

3. Proven Success: Our program is backed by research, and our impact is undeniable. Students report improved well-being, including increased calmness, better rest, greater self-compassion, and enhanced mindfulness.

4. Designed for College-Aged Adults: Our program is purposefully created for emerging adults. We address their strengths, needs, and skepticism through storytelling and metaphors. With small, diverse groups, structured homework, and personalized mentorship, we provide a comprehensive approach.

5. Building Connection & Community: Connection is at the heart of our approach. We foster meaningful connections between teachers and students, and among students themselves.

6. Empowering Educators: Our certification program equips educators worldwide with the tools and guidance they need to foster resilience and reduce stress among college students and staff. MIEA's standout certification program offers flexible training, extensive support, a wealth of resources, and innovative technology to streamline the teaching process.