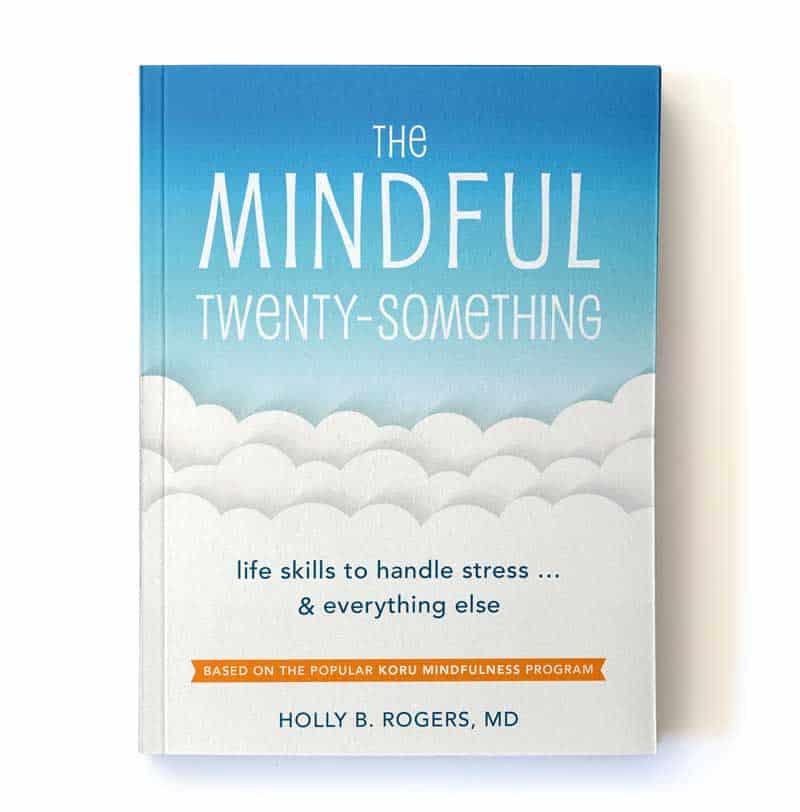 The Mindful Twenty-Something

Life skills to handle stress… & everything else
Holly B. Rogers, MD
The Mindful Twenty-Something, written by Holly Rogers, MD, co-founder of MIEA (formerly known as the Center for Koru Mindfulness), is an essential guide for students.
It is a required reading for students taking Intro to Mindfulness and teachers getting their MIEA Mindfulness teacher certification.
Your twenties are about finding out who you really are. But between work, relationships, and planning for the future, you may feel like you're being pulled in a dozen different directions. The key to making the most of these transformative years is learning to be fully present in the moment, in good times and bad. So, how can you stay grounded when life is rushing by?
This mindful guide offers a unique approach for navigating your twenties with clarity and confidence. You'll learn to tackle stress, gain a healthier perspective, get in touch with what really matters to you, and make important life decisions guided by self-knowledge and understanding. Most importantly, you'll discover mindfulness techniques to manage life's day-today challenges from a calm, balanced center—a useful skill at any age.
---
"A 21st century book, grounded in ancient ways of practice."
Sharon Salzberg
Author of
Lovingkindness
and
Real Happiness
"This book is an excellent resource for a person of 'any-something' age who wishes to begin or learn more about practicing mindfulness."
Jeff Brantley, MD
Author of
Calming Your Angry Mind
"Wise, but not obscure. Practical, but lighthearted and inspiring."
Mirabai Bush
Co-founder and Senior Fellow of
The Center for Contemplative Mind in Society
Holly Rogers
Co-Founder of MIEA / Author
---
Holly is one of the developers of the Intro to Mindfulness curriculum and a co-founder of the Mindfulness Institute for Emerging Adults (formerly known as the Center for Koru Mindfulness). She worked for over two decades as a psychiatrist at Counseling and Psychological Services, the student counseling center at Duke University where she developed strategies to help students incorporate the practice of mindfulness into their lives in a meaningful way.
Holly's own mindfulness practice began more than 25 years ago when she had the good fortune to be taught and mentored by Dr. Jeff Brantley. Since that time, she has integrated the principles and practice of mindfulness into her clinical work with students and been continually inspired by the profound growth she has witnessed.
Holly is the co-author of Mindfulness for the Next Generation: Helping Emerging Adults Manage Stress and Lead Healthier Lives. She is author of The Mindful Twenty-Something, a handbook for young adults who wish to learn about mindfulness and meditation.
She lives in Durham, NC with her husband, dog, and two cats.